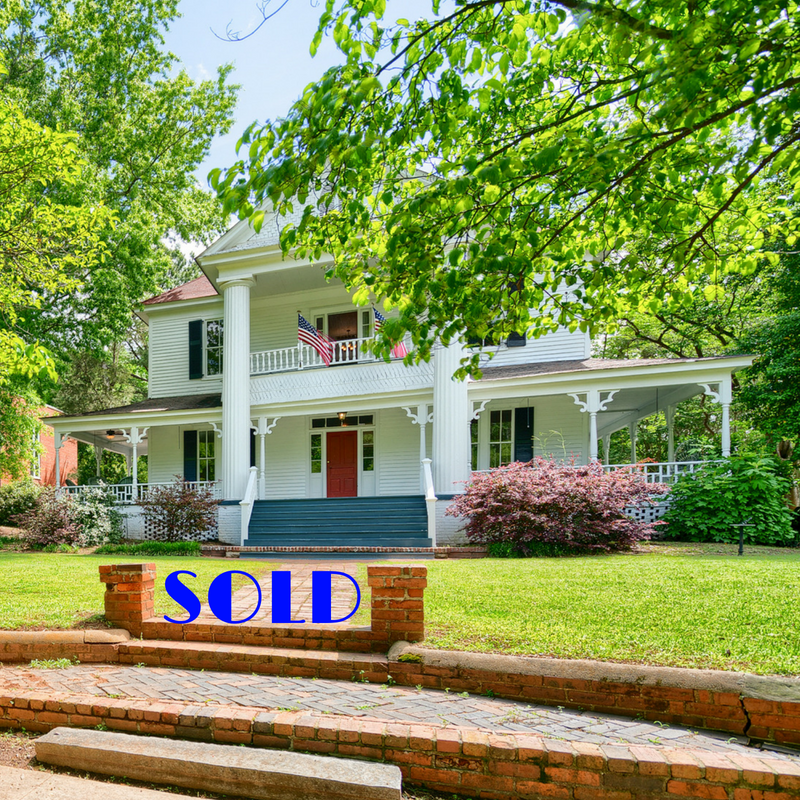 New Listing offered at an unbelievable deal!
Highview Cottage c. 1827
307 North Alexander Avenue HISTORIC Washington, Georgia
5 Bedrooms , 4.5 Baths PLUS efficiency Guest Cottage on property
With humble beginnings, constructed as a female seminary circa 1827, this now approximately 4,000 square feet Greek Revival home has evolved into a most Stately and Impressive Home with its Towering Columns, Roomy second story Balcony and welcoming Wrap Around Porches.
Operating up until 1895 , Much of the growth of the seminary began in 1839 under the direction of the notable Sarah W. Brackett of England. It continued its program throughout the Civil War years under the leadership
of a Mrs. Waddy on into 1866 and due to the interest of Adam L. Alexander and Samuel Barnett , the seminary became one of the finest educational institutions for girls in the state.It is said, visible in the attic are names and initials carved into the plaster by students of the era. All intriguing bits and parts of a past that has brought this Gracious Southern Home to its present day standing.
There is a wide center hall on the first and second levels flanked by spacious rooms flooded with sunlight. Pocket doors separate the dining from the parlor and fireplaces grace most every room. The well planned kitchen is open and airy with over-sized island, beautiful shaker custom cabinetry and southern CHARM.
Main level consist of parlor, formal dining, library/study, fantastic kitchen, laundry/back entry, two(2) bedrooms, two(2) full baths and a half bath.
Second story consist of spacious Master Bedroom Suite , Master Bath complete with Footed tub, Fireplace & Walk-in Closet,Separate shower ready for your specifications and personal touch. The Wide Center hall draws one to the large balcony with ample space for sitting and enjoying tranquil views of neighboring magnificent mansions and cottages that adorn this southern town.
Excellent location within walking distance of the Town Square, Shops, Restaurants, Museums, Library , Post Office and the Little Theater.
Truly a MUST SEE and a REAL BARGAIN that
the Current Owner is willing to pass along to the New Owner!
Call 706-410-7403 or email David@Raineyandco.com