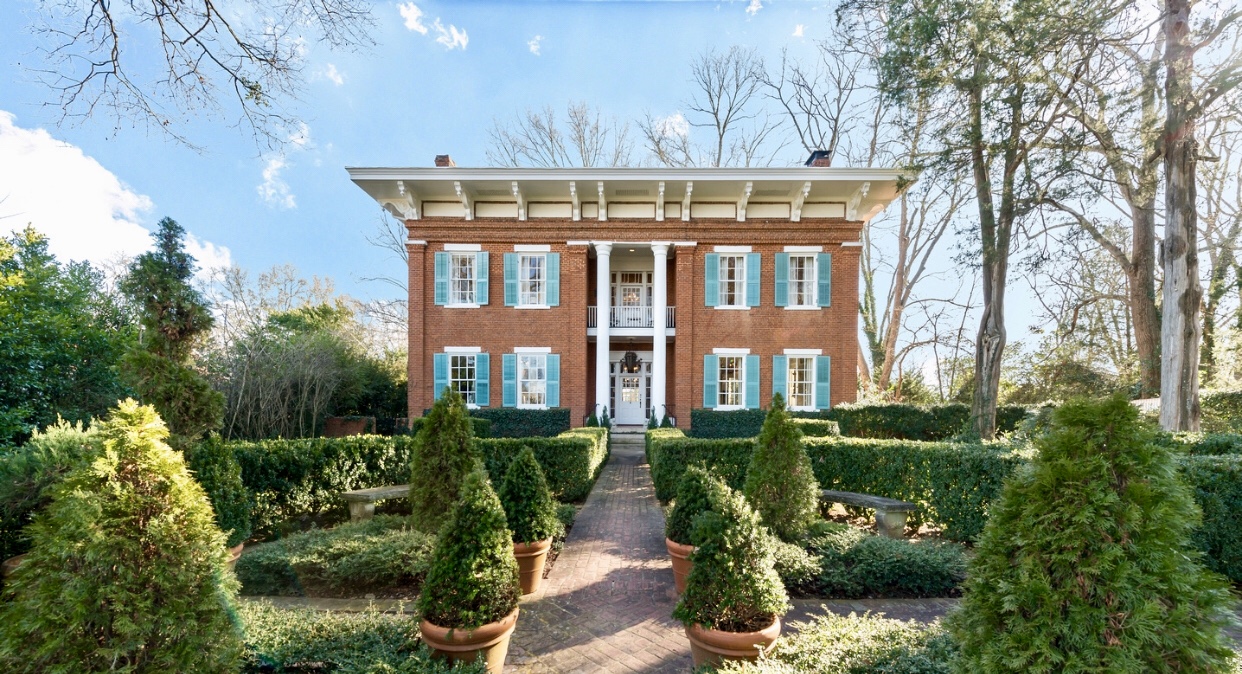 Dixie Manor
Jones-Wright-Sams-Smith
c.1838
The house known as "Dixie Manor",at 3115 Pennington Street, is unusual for its styling as well as for its brick construction. It is the only two-story antebellum house in Covington constructed of All brick, (Said to made from Bricks that all came from England) as all others were originally built of wood and sided with weatherboard. The styling of the house is primarily Italianate with a symmetrical organization of the front facade and widely overhanging eaves supported by large decorative brackets. The pair of Doric columns that flank the recessed entrance are especially distinctive.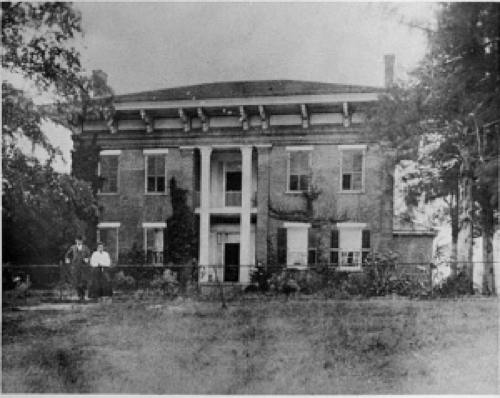 Also described as English Regency architecture.First Owner was Judge Thomas Jones He was one of the earliest settlers of Newton County. He owned the home until he died in 1856. Over the next decades the historic home had an ample number of owners. One that particularly stands out was Mrs. Corrie C. Wright. She is the one who gave the home the name, "Dixie Manor." She bought the house back in 1902 for $2000 dollars. Mrs. Wright was a native of Covington who married Joseph Allen Wright in 1900. Mrs. Wright died in 1945 and she gave the home to her physician, Dr. JR Sams, who took care of her for a long time.
Once the house was in the hands of Dr. Sams, he decides to do a little renovation to the old home. He used a portion of the bedrooms to add closets to all the room, and he also added glass-enclosed doors on the down stairs back porch. All the years Dr. Sams owned the home he furnished it appropriately. During the time that he owned the home, it was featured in Covington's first Tour of Homes. They described the home as being quite elegant and charming. It had scenic wallpaper, delicate gold leaf molding, and the original mahogany staircase.
Once the doctor died, he gave the house to his grandson, who later sold the house after a couple years. On May 28th 1976, Billy Smith, a Covington native, bought the house. He lived there for several years with his wife, son, and daughter. Today, someone from out of town bought Dixie Manor and now resides there.
In regards to the Civil War,Ben Camp, a member of the 16thGeorgia Calvary, was on leave when Sherman's army came through. He feared being captured, and turned to the Dixie Manor residents, the Rogers, for help. It is reported that they helped him by hiding him in a dry well in their backyard. They covered the dry well with a chicken coop. Mr. Camp's date of death is reported to be in 1923. We can only assume the quick thinking of the Roger's family helped lengthen his life.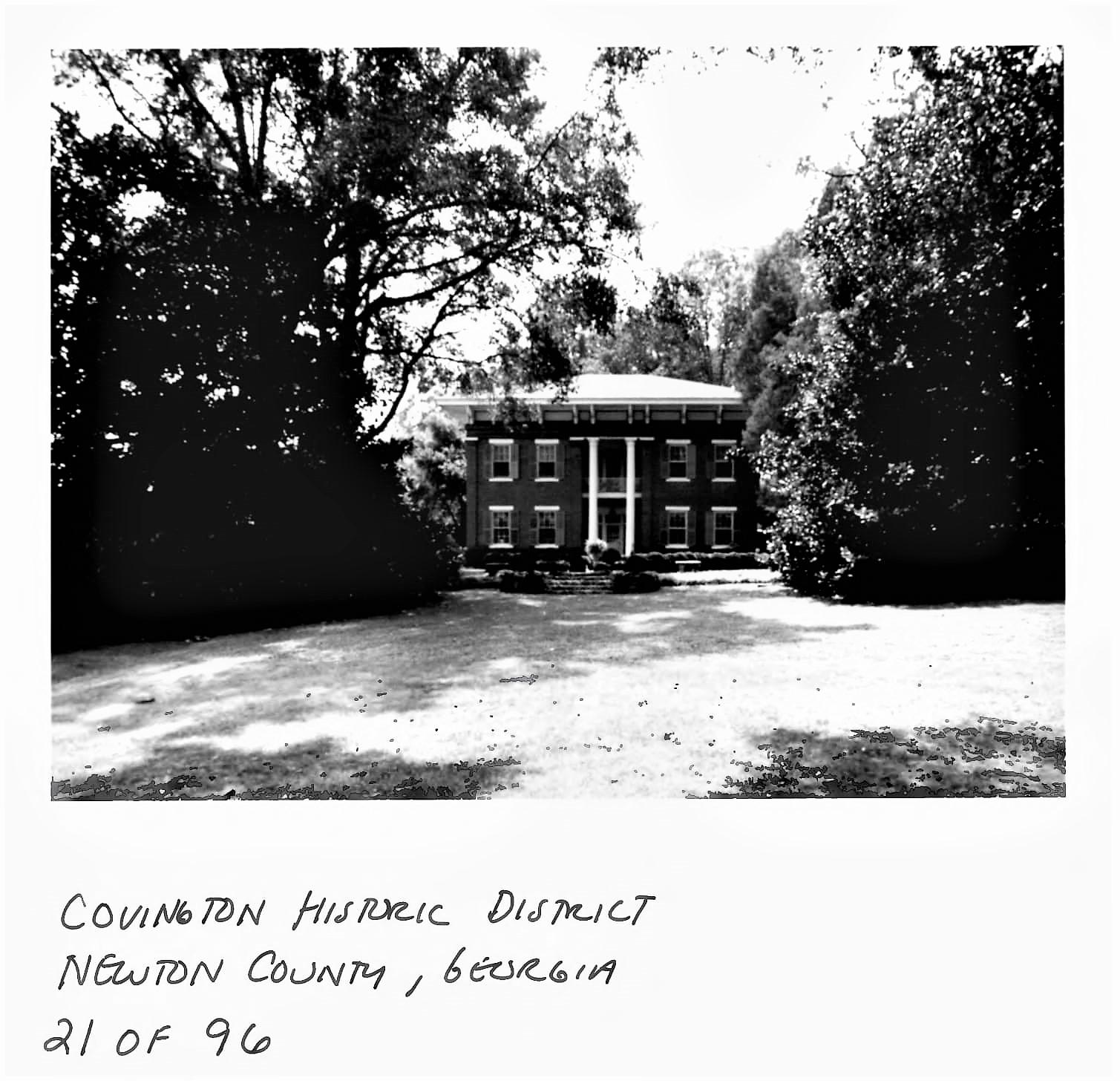 Built in 1838 this four bedroom (optional fifth bedroom), five bath residence has been impeccably restored.
All lighting and fixtures sourced in Italy specifically for this the residence; including a pair of chandeliers from the home of Jean Paul Gaultier.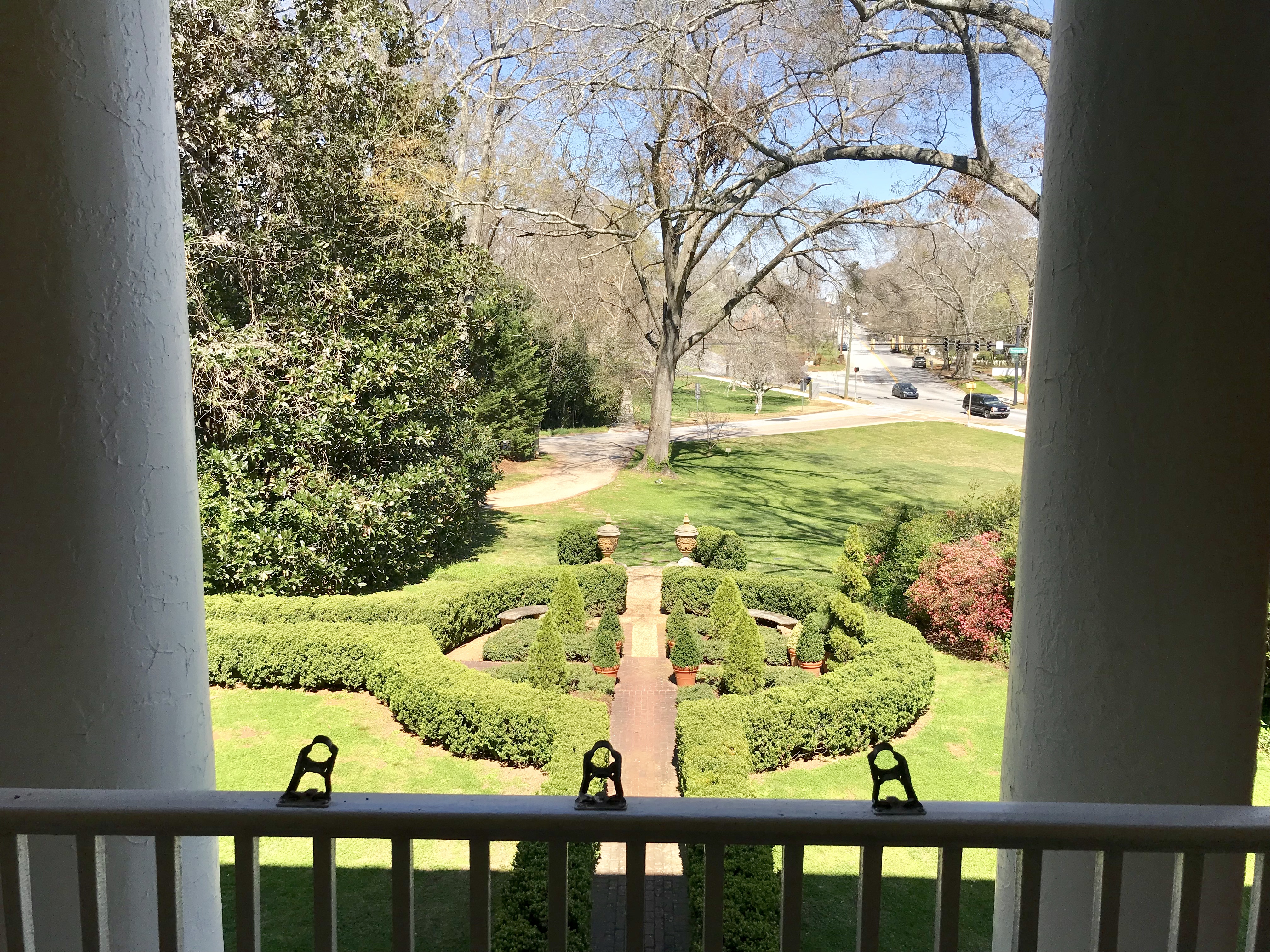 Classically proportioned with beautiful symmetry.
Luxuriously sized living areas create dramatic space for relaxing and entertaining. The 12' ceilings and 7' windows throughout create extraordinary volume and light.
Restaurant-style kitchen features pair of free-standing pantries built & brought from Europe, stainless steel island and and top-of-the-line appliances.
Master suite on main features bronze Florentine chandelier & spa-like bath with soaking tub and over-sized shower enclosure.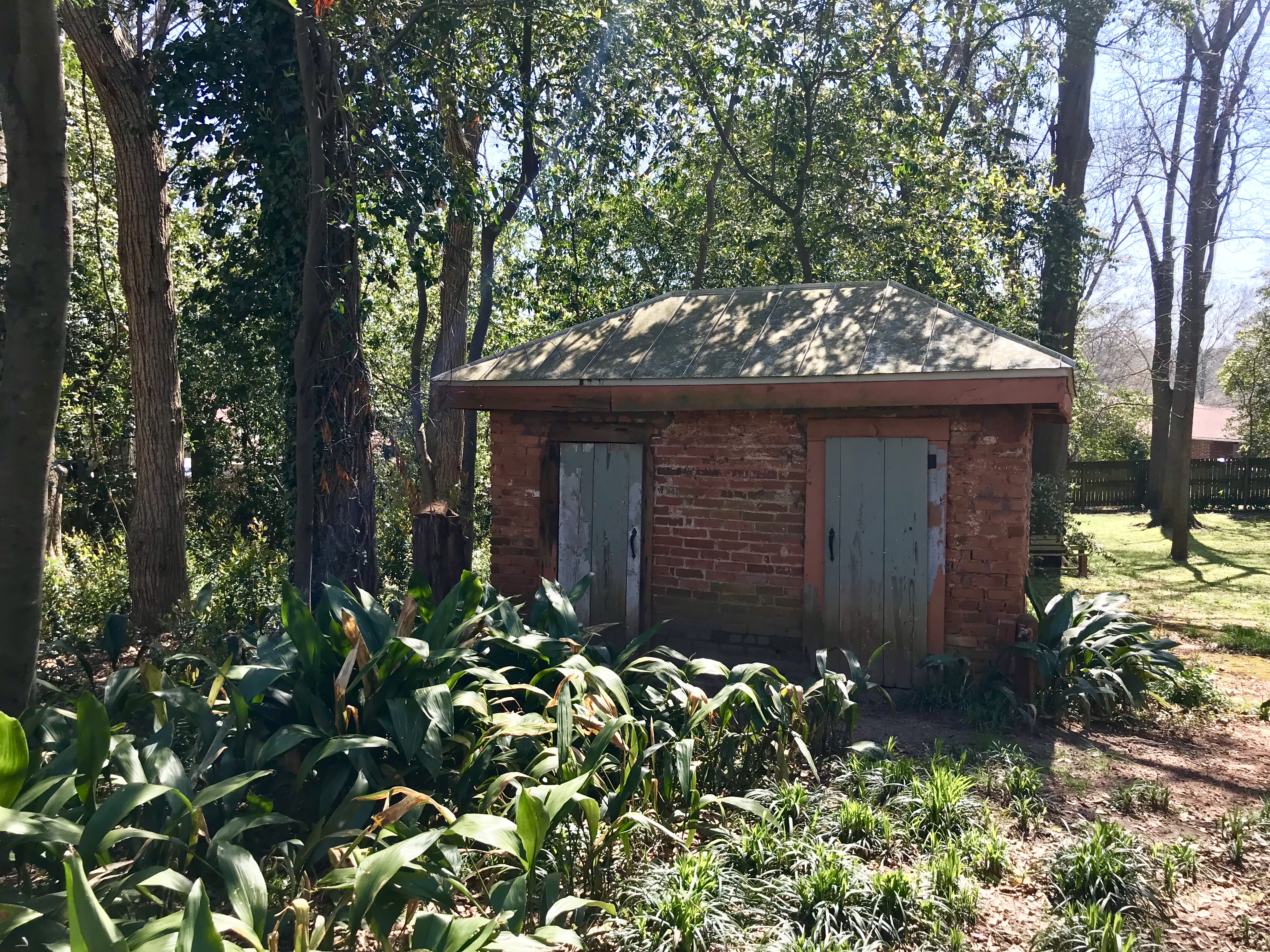 Orginal Outhouse above still remain on the property!
The gated grounds feature a frescoed salt water swimming pool, Travertine columned portico with fireplace, hot tub and secret kitchen garden, a complete and private oasis. Olive and citrus trees, formal boxwood hedges & century old oaks create a stunning backdrop.
House retains all original 10 fireplaces, hardwood floors, windows and woodwork.
It has been a hot spot for film productions. It has been featured in The Heat of the Night and Miss Evers Boys. It has also been featured in a HGTV television series, If Walls Could Talk. This home still holds its original 18-inch thick bricks, as well as ten original fireplaces and original southern heart pine floors.
The property is in Covington's Historic District, listed on the National Register of Historic Places, and is a few minutes walk into one of Georgia's best small downtown areas. Covington a beautifully historic storybook small city, rich in history and also extraordinarily modern. Stylish shops and contemporary restaurants and a flourishing town square that boasts concerts and holiday events throughout the year, 3115 Pennington Street enjoys a much sought after location.
Besides being a golf cart friendly town, the location is ideal for those who enjoy a walkable and outdoor lifestyle Minutes to the extensive green trail system, numerous parks, lakes and paddlers can be on the Yellow River Water Trail within 15 minutes, only the 35 mintues to Hartsfield-International Airport.
A must see!!!
Asking Price is $1.3