Popular West Midtown development sells for almost $130 million
Atlanta Business Chronicle
Westside Provisions District, the redevelopment of early 20th century warehouses into a mix of restaurants, stores and loft offices, has sold for close to $130 million, according to people familiar with the deal.
Jamestown L.P. and Clarion Partners LLC formed a joint venture to own and manage Westside Provisions, the 261,742-square-foot project that has turned Howell Mill into a main street for West Midtown neighborhoods and center of the community.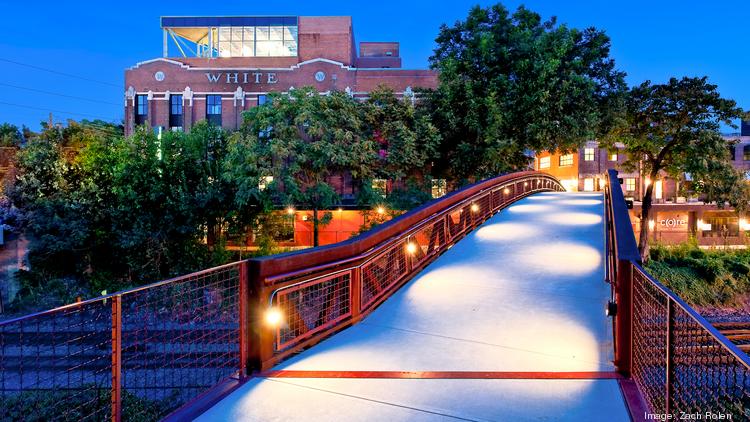 Enlarge
ZACH ROLEN
Jamestown and Clarion Partners did not release what they paid for the project. The price of the transaction, which is close to $500 a foot, was confirmed by people familiar with the deal.
Westside Provisions District includes the projects White Provision and Westside Urban Market, which Atlanta real estate developer Michael Phillips and partner Kathleen Walker started 20 years ago.
Since then, it became a catalyst for the evolution of the Howell Mill corridor from an aging industrial area to a draw for foodies and boutique shoppers. Westside Provisions also features a pedestrian bridge unifying both sides of the development.
The project is known for a mix of restaurants, home furnishings stores, national retailers and local boutiques including Lululemon, J. Crew and Free People. Earlier this year, it also landed and expanded Design within Reach, a well-known home furnishings retailer.
"Twenty years ago we set out to create a main street for West Midtown," Michael Phillips, now president of Jamestown, the real estate company that is also behind the transformation of the massive Sears Roebuck & Co. warehouse in Atlanta's Old Fourth Ward neighborhood into Ponce City Market.
Philips said institutional investment managers Clarion and Jamestown investing in Westside Provisions validates his and Walker's original vision for the project.
The Westside Provisions sale continues a wave of investment and development in West Midtown. The transaction was brokered by Chris Decoufle with CBRE.
Clarion Partners made its investment on behalf of a commingled fund managed by the firm.